About Us
En-Net is a full-service information technology solutions provider located in the greater Baltimore/Washington metropolitan area in the heart of federal government procurement. Our winning combination of location, dedicated customer service, and experience have created a seamless end-to-end experience dedicated to servicing the public sector.
Our Goal
En-Net is a leading supplier of information technology solutions to public sector entities throughout the United States and its territories. Personal assistance, experienced staff with an uncommon work ethic, and strategic manufacturer partnerships enable En-Net to deliver innovative and cost-effective products and services. Our mission is the achievement of your goals while building a long-lasting and mutually beneficial relationship.
Our History
En-Net began as a family business in 1996, founded by Brian and Jana Sheffer. Today, we are proud to maintain the same family ownership strategy with brothers Brian Sheffer and Kyle Yost. Today, En-Net has a strong team, many of whom are lifelong friends. Our unique approach has netted loyalty rarely seen in today's market, rooted in the principles Brian and Kyle acquired during their childhood in Littlestown, Pennsylvania—reliability, flexibility, and dedicated service.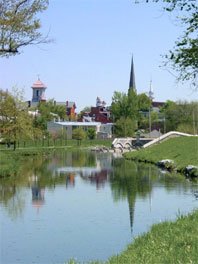 Originally, En-Net offered networking and energy consulting services to federal government contractors and major utility companies. In 1997, our catalog of solutions expanded to include information technology products. In 1998, En-Net was awarded a GSA schedule that is still utilized almost 20 years later. Since then, we have formed many partnerships which allow us to team on additional contract vehicles. Today, we take pride in offering turn-key solutions to all public sector entities including Federal, State and Local Governments, and Educational entities.
In 2009, En-Net began the latest chapter in our journey with the purchase of a 10,000 square foot building in downtown Frederick, Maryland. Originally designed in the 1940s as a torpedo factory, the building evolved into a renowned gymnasium, an antique market, and several other businesses, until we remodeled it to create a unique and high energy work environment. The additional space has allowed us to expand our products and services while expanding our team.
As our organization has evolved, our team's number one goal has remained the same: to offer personal and courteous service, high-quality products, exceptional values, and uncompromising customer support.
Visit Us
Partner with Us Today
Experience a superior method of getting the public sector technology solutions you need through forming a partnership with En-Net. To find out more about our hardware services, printing and imaging services, or to hear more about how a dynamic team can help meet your information technology needs, contact us today.